Find An Obituary
Help remember your loved one with a thoughtful memorial, honoring the story of their life and family, as well as obtain details on their funeral arrangements. Click below to view our obituary listing.
Join the Mailing List
When an obituary is published to our site, we will notify you by email. This service is free, and you may unsubscribe at any time.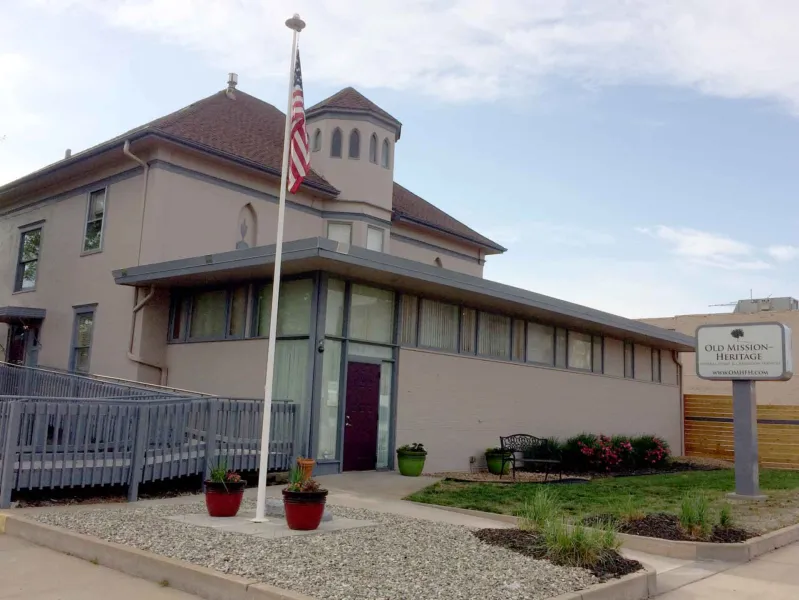 Hutchinson's Trusted Funeral & Cremation Provider

"Old Mission-Heritage's historic location has served the Hutchinson area since 1908. Understanding each family has different needs, we create meaningful funeral and cremation services with dignity, respect and professionalism." — Assistant Funeral Director Robert Morris
Of the many arrangements made after losing a loved one, the first is the selection of a funeral home. Our staff can help create a beautiful tribute and provide guidance and suggestions on the many decisions made when planning a funeral, cremation, memorial, celebration of life, and/or burial service.
We take pride in meeting the specific, and sometimes unique, needs of each and every family. Please use our website to learn about the funeral, cremation and permanent memorialization services we offer, as well as our pre-planning and grief support resources.
If you have any questions or concerns, please contact us at anytime. We are here to help you!
Plan Ahead
Advanced planning is a thoughtful and considerate act that your loved ones will truly appreciate when the time comes.
Customized Tributes
Customizing the service for your loved one allows you to truly honor their memory with unique and personalized details.
Testimonials
I consider this staff to be an extension of my family. People that our genuinely concerned with your well being and peace of mind. This is a place that celebrates life and makes you feel you are being cared for by a trusted family member. You don't have enough stars in this rating to express my heartfelt feelings for Old Mission-Heritage Funeral Home.
Jack Sandberg
We were very good taken care of ago 5 years ago when our mother passed away...but then to come back just a few days ago after our dad died unexpectedly. Not only did they remember us...but took very good care of us and our dad, making this a easy as something like this can be, Treated up with the upmost respect and took great care of not only us but both our mother and now our dad. Wouldn't pick anywhere else to go, even though this is a place that no one ever wants to have to go. They are amazing.
Angie Kallaus
This is a wonderful place. Th eytook so much stress off my shoulders helping me out. they really treat you like your family and care about you.
Jason Duerksen
Old Mission-Heritage Funeral Home is the best funeral home in this town. My dad was killed in a car wreck out of state 4 years ago & they took care of everything ,were so caring & sympathetic, always was there for you.They treat you like family. I will choose them every time.
Sheila Burt
They don't make you feel like just another customer, they made me feel like I was their family. They were very helpful when I needed them most. I can not give my appreciation to them enough. Thank you Shawn, Tom, and Robin for making me feel like I am part of your family and the kindness and compassion you have given at this very hard time.
Misti Bryant
Very caring and loving with the arrangements of the funeral. Best , down to earth, people. Treat you like family. Thank you very much.
Delaine Henderson
Very friendly. They truly care about you and your family and have your best interest at heart. They are up front and very helpful and understanding.
Mariah Diemer
Great place great people. Tom and his staff are top notch. I will only deal with them. Very helpful and a wealth on knowledge.
Jay Avery